The Pinnacle
jump to: Pictures - Reviews - Measurements - Manual
pin·na·cle
[pin-uh-kuh l]
1. a lofty peak.
2. the highest or culminating point, as of success, power, fame, etc.: the pinnacle of one's career.
3. any pointed, towering part or formation, as of rock.
The Apex Pinnacle is a highly evolved vacuum tube preamplifier and headphone amp.

For the highest quality tube sound without harshness or distortion, it employs two single-ended tube stages. The input stage uses the venerable 6SN7 tube, often regarded as the best tube ever made for audio voltage amplification. The power stage uses the Sophia Electric PX4 triodes. This carefully matched arrangement cancels some of the softness - actually, second-order harmonic distortion - that is often associated with single-ended tube amplifiers. Outstanding linearity of the tubes allows no negative feedback whatsoever in this design. The result is pure, clean, musical sound.

Both the input and output signals are coupled through very high quality audio transformers, providing truly balanced inputs and outputs. Three inputs are accommodated, from either balanced or unbalanced RCA or XLR connections. The versatile output circuitry allows the connection of high or low impedance headphones, as well as a power amplifier. The input and output selections are made via a front panel switches, which activate relays that are strategically located to keep the signal path direct and pure.

Components are carefully selected from throughout the world, from hand-machined Japanese Teflon tube sockets and aluminum knobs to transformers custom-made in Europe. Unlike many so-called "high-end" audio components, the Pinnacle is not just a prettied-up marginal design implemented with poor-quality parts from third-world nations. It is truly a high-end component from design through assembly, hand-built in the USA.

To keep the noise level as low as possible, the Pinnacle places the power supply circuitry in a separate enclosure, which may be located up to five feet from the amplifier. Special transformers, Silicon Carbide rectifiers, and a sophisticated filament supply help ensure the Pinnacle is as quiet as it can be.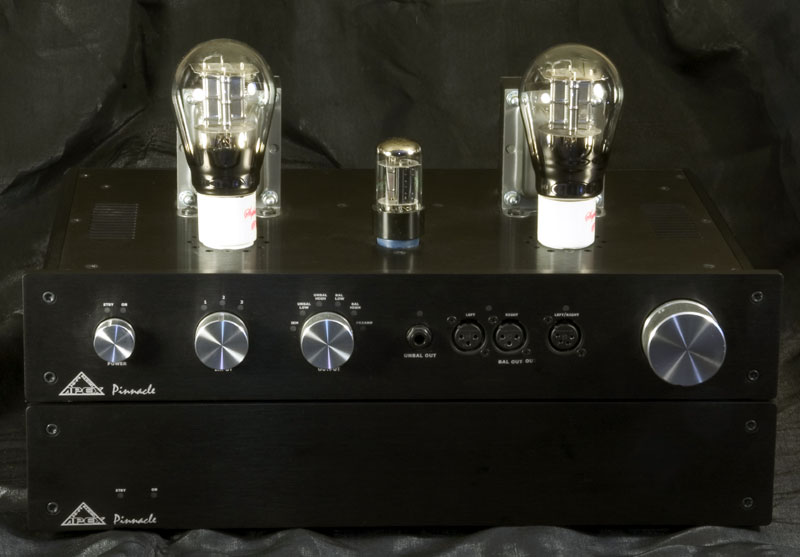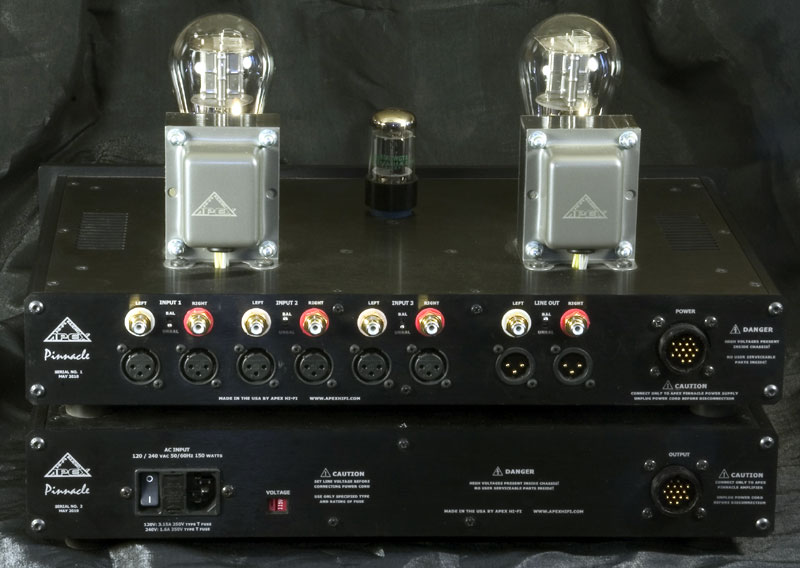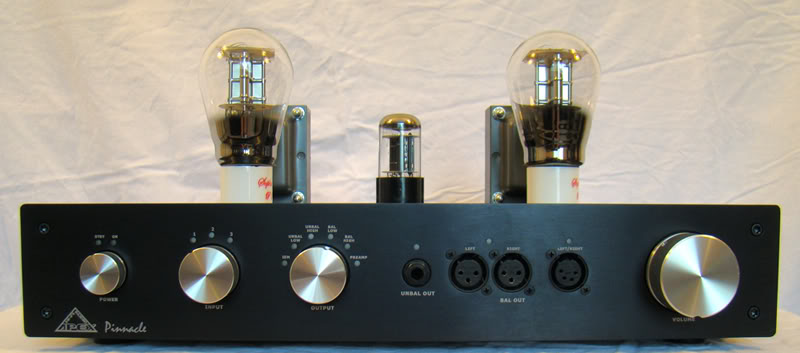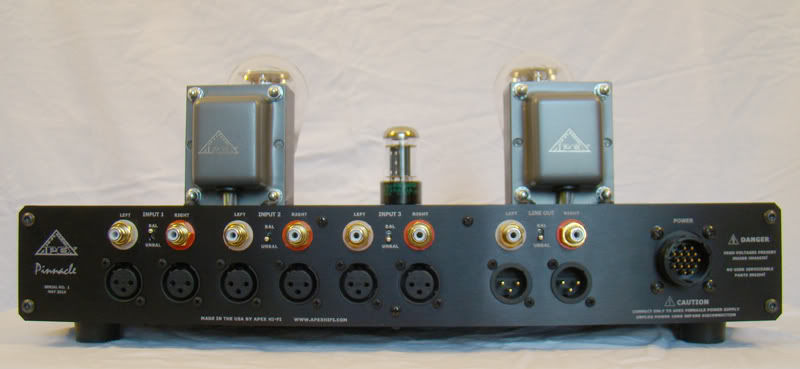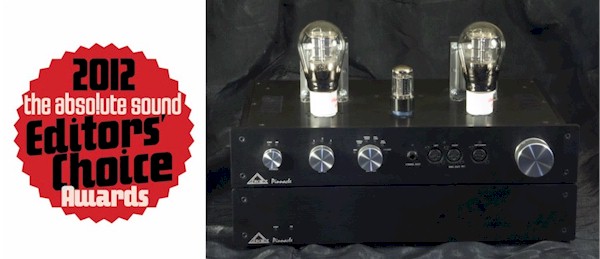 John Crossett from THE AUDIO BEAT has written a review of the Pinnacle - read it here.

July/August 2011 issue of THE ABSOLUTE SOUND, Dick Olsher reviews the Apex Pinnacle
The Audio Beat - CanJam 2010 Best of Show
HeadFi Pinnacle review
Download the Pinnacle instruction manual
Measurements & specs
NOTE: Please read the page about headphone & amp specs!
Values are typical.
Max out high-Z 150 ohms 1kHz: 16V RMS / 22V peak / 44V peak-to-peak / 1.7W
Max out low-Z 33 ohms 1kHz: 7.6V RMS / 10.7V peak / 21.4V peadk-to-peak / 1.75W
Max out IEM 33 ohms 1kHz: 1.2V RMS / 1.7V peak / 3.4V peak-to- peak
Peak output current Low-Z: 1.2A
Peak output current Hi-Z: 640mA
Peak output current IEM: 560mA
Output impedance low Z: 16 ohm
Output impedance high Z: 71 ohm
Output impedance IEM: 8 ohm
THD+N 1V 1kHz high-Z 150 ohms: 0.08%
THD+N 1V 1kHz low-Z 33 ohms: 0.06%
THD+N 100mV 1kHz IEM 33 ohms: 0.14%
FR: 20-20kHz +/- 1.5dB
FR: -3dB 17Hz – 43kHz
Noise 400Hz-30kHz: 17uV
Max gain (Headphone out) 1kHz: 16dB
Max gain (IEM) 1kHz: 0.5dB
Max gain (line out) 1kHz: 14dB
DC Offset: 0 (transformer coupled)
Power: 120 or 240 VAC, 50-60Hz, 180 watts max.
Dimensions (amp): 17" W x 13" D x 7" tall
Dimensions (power supply): 17" W x 13" D x 3" tall
FFT: 1V RMS @ 1kHz Low-Z into 33 ohms or High-Z into 150 ohms: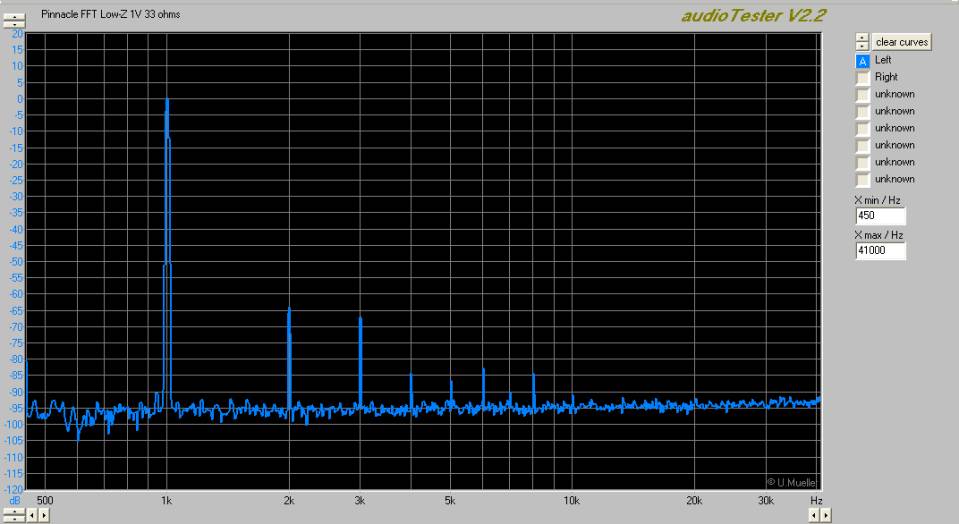 FFT: 1V RMS @ 1kHz IEM into 33 ohms: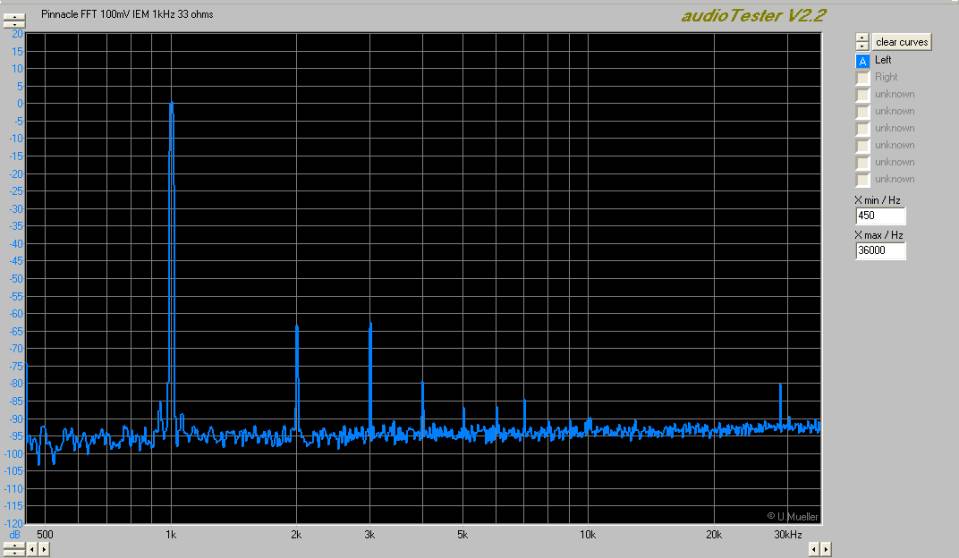 Frequency response: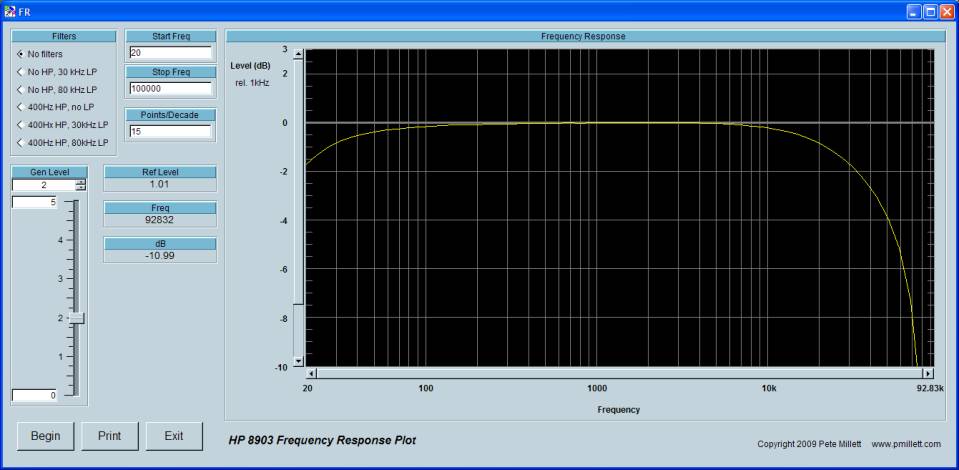 THD+N vs. frequency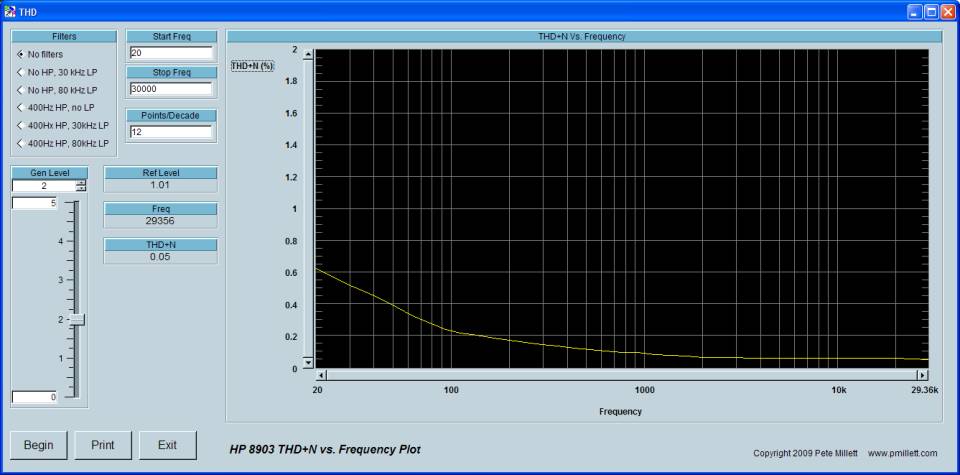 THD+N vs. output voltage (Low-Z, 1kHz into 33 ohms):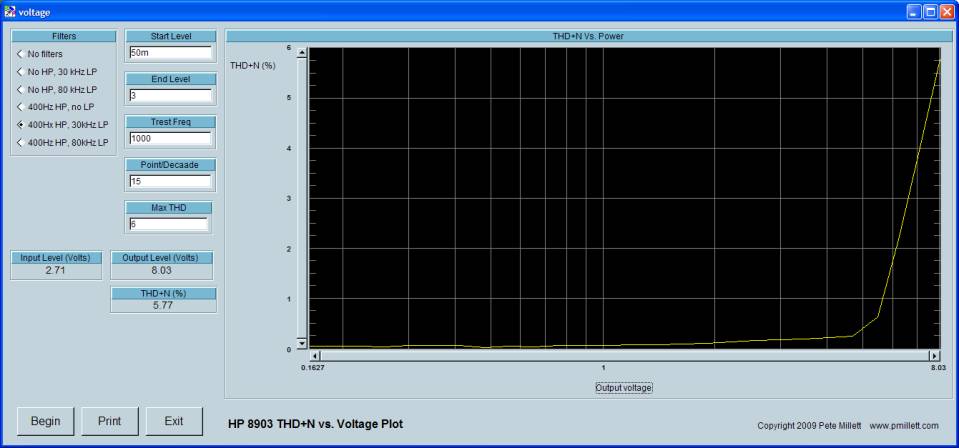 THD+N vs. output voltage (Hi-Z, 1kHz into 150 ohms):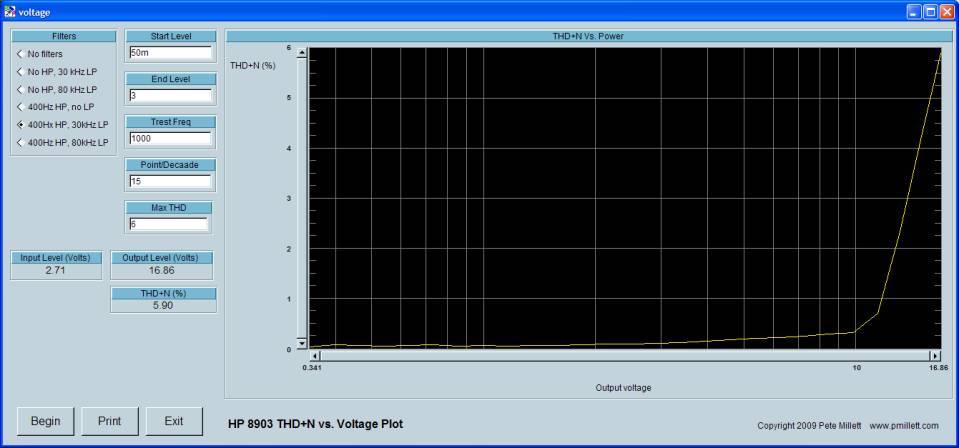 THD+N vs. output voltage (IEM, 1kHz into 33 ohms):